ORDER BELOW
******************************************************************************************************
*******************************************************************************************************
*************************************************************************************************
Congregation Health Survey – $500
Books

Wake Up Church!
Ed Kruse and Bill Steadman (2014)
Wake Up, Church! is a timely response to the life-threatening confluence of mistrust, economic crisis, and failure to adjust to clear warnings of impending collapse that congregations face today. Debt and budget shortfalls combine with flat statistics and dismal projections, while apathetic constituents yawn and frightened followers prepare to exit. In all the muck, there remains a gospel that has carried the risen body of Christ without fail for centuries through personal spiritual growth. Those followers who remain will become transformational leaders in a movement that will change the world by renewing local congregations with global impact through the Holy Spirit. Never in history have congregations been so infinitely powerful to carry out the unfinished task as they are today.
Unwrap Your Gifts and Use Them
The 33 Laws of Stewardship Thousands of congregations have discovered the insightful message of The 33 Laws of Stewardship and they've given it an overwhelmingly positive response. With 33 inspiring chapters, The 33 Laws of Stewardship is highly readable. It's a user-friendly resource that guides Christians into a deeper understanding of stewardship.
33 Days of Stewardship Discovery Guide 33 Days of Stewardship Discovery Guide is specially designed to accompany The 33 Laws of Stewardship. This practical booklet presents a "3 R's" plan for each day – a daily Reading, Reflection and Response. It takes no more than 10-15 minutes a day, but those minutes can make a major impact.
$15.00 (includes book and discovery guide)

****************************************************************************************************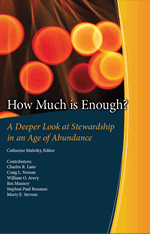 Six competencies of a well-formed steward leader Region 9 of the Evangelical Lutheran Church in America and the Lutheran Theological Southern Seminary Council on Stewardship Education published this book. The book was made possible by a grant from the Stewardship of Life Institute (SOLI).